C'est tellement bon quand on trouve une recette hyper facile et qui fait son petit effet.
C'est un peu ce qu'on appelle effortless style en mode, le style sans même y penser. Sauf qu'en mode, ce petit rien qui fait tout, on le bosse à mort - genre "je m'habille sans regarder mais, oh mon Dieu, comme ça me va bien". En cuisine, c'est souvent le contraire : on rajoute du sel sur une tomate et hop, miracle. C'est ça qui est bien avec la nourriture et c'est beaucoup plus sincère que bien d'autres choses…
En relisant le très beau livre de Fumiko Kono, ancienne élève d'Alain Passard, je suis tombée en arrêt devant cette recette de petite soupe légère comme un nuage aux oignons nouveaux. C'est hyper simple à faire et le résultat est super à servir en entrée élégante - d'ailleurs, Marcia de Sooishi, qui s'y connaît en délicatesse, l'avait déjà réalisé avec brio (quoique dans un ordre différent si l'on regarde la vidéo). 
ps : je ne remercierais jamais assez les frères Pourcel de m'avoir consacré un article dans leur blog. Moi qui ne savais même pas, qu'en plus de leur merveilleux Jardin des Sens à Montpellier (où j'ai déjeuné une fois), les cuisiniers jumeaux et triplement étoilés avaient un blog…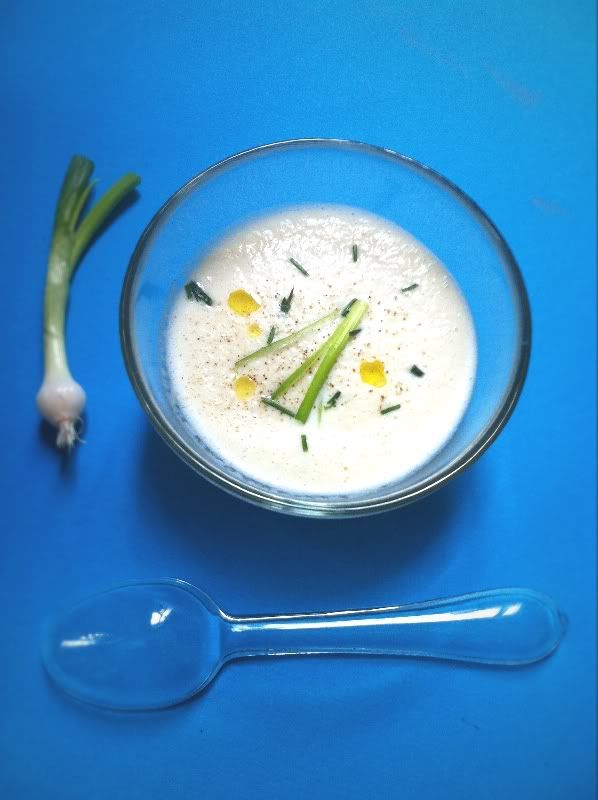 SOUPE LEGERE D'OIGNONS NOUVEAUX COMME UN NUAGE
Pour 4 personnes
300 g d'oignons nouveaux sans les tiges
40 g de beurre demi-sel
40 cl de lait demi-écrémé
sel
matériel : deux casseroles, un mixer/blender.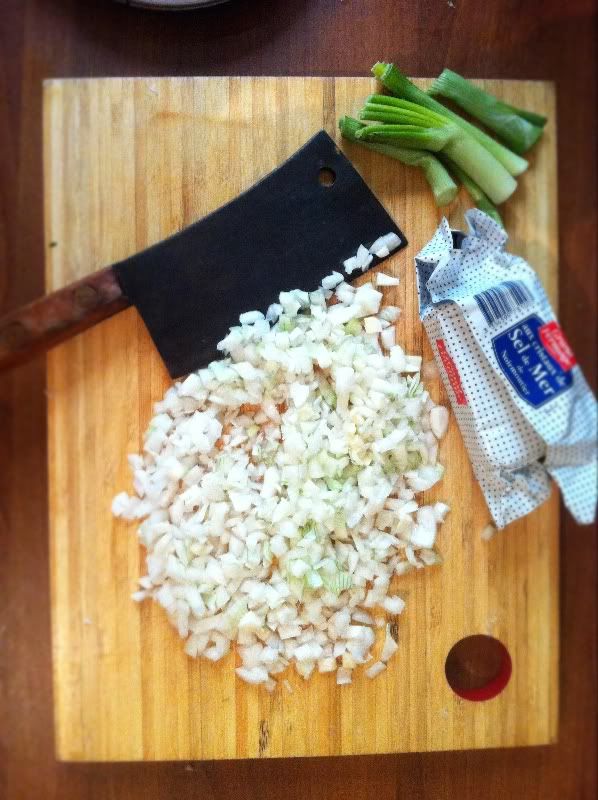 Epluchez et émincez les oignons nouveaux.
Dans une casserole, faite fondre le beurre demi-sel et ajoutez les oignons émincés. Faites suer doucement à feu doux jusqu'à ce qu'ils soient translucides et bien tendres. Dans une autre casserole, faites chauffer doucement le lait.
Ajoutez le lait chaud aux oignons et salez.
Mixez l'ensemble pour obtenir une consistance crémeuse et mousseuse.
Servez chaud dans des petits bols.
* * *
It's so cool when you find a super easy recipe that really does it.
It's a bit like what they call "effortless style" in fashion, style without even trying. Except that, in fashion, this little je-ne-sais-quoi that makes everything, one has to work hard on it - like "I dress without watching but, oh my God, how great it suits me". When cooking, the opposite often happens : one adds salt to a tomato and there you go, a tasty miracle. That's what i like about food and that's much more genuine than lots of other things…
Reading over former Alain Passard's pupil Fumiko Kono's book, I came across this spring onions soup light as feather recipe. It's incredibly easy to do with an great result to serve as an elegant starter - by the way, Marcia from Sooishi, who knows what is delicacy, had already worked this recipe with panache (though in a different order if you look at the video). 
ps : I'll never thank enough the Pourcel brothers for mentioning me in their blog. I didn't know that, besides their fantastic Jardin des Sens in Montpellier (where I was lucky enough to lunch once), these identical twins chefs with three Michelin stars had a blog…
LIGHT AS A FEATHER SOUP WITH SPRING ONIONS
Serves 4
300 g spring onions, without their stems
40 g of slightly salted butter
40 cl of semi-skimmed milk
salt
you'll need : two pans, a blender.
Peel the spring onions and chop them.
In a pan, let the butter melt and add the onions. Let them cook over low heat until they become translucent and nicely tender. In another pan, heat the milk.
Add the hot milk to the onions and salt.
Mix the whole thing until you get a creamy soup that is frothy.
Serve hot into little bowls.
wrapperpapped likes this
francoisph likes this
catering-deneuve posted this